What is with this weather? It has put a damper on a couple of recent sewing events and that is not good. About half of the applique showed up yesterday - the forecast was freezing rain. But no worries - that meant there was more room for those of us that were here.
I have always wanted to do a
Piecemaker Calendar
quilt. I have started a couple of them, but never progressed far. Some of them have been more complex than others because 16 blocks would make up ONE scene rather than individual blocks. Check out the link above to see some of the calendars.
One of the ones that I started was the trains from 2000. Sharon was also working on it and she resurrected it yesterday to try and finish. Well not finish it yesterday, but to get back working at it.
She is ALMOST HALF DONE!!!!! These are the two center rows.
Close-up of the house on the bottom left - just stunning!!!!
She made good progress on the missing block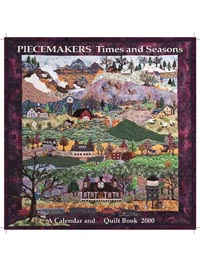 This is the pattern cover
I think I have THREE of them started. Perhaps this applique club will get my butt in gear and get ONE of them completed.
Elaine's cute and BRIGHT little bag for sewing stuff
I am working on Amish with a Twist - the original one. I'll get a picture of the quilt tomorrow. But I managed to get ALL the applique shapes made and ONE border section is done. Well - almost.
One border section glued and ready to stitch
The other three border sections ready for glueing
I realize that I have TWO of the same colour in the middle one in the picture above so I have to rip one flower off the "finished" one. There are four of the same colour and ONE of each on each border piece. ACK - was too distracted to grasp that detail yesterday.
Well - I was so excited at my progress, I thought I would pull out my next applique project and I laid out all the blocks and WHOA - what's this?????
I was CERTAIN that I had TWO applique feet, but lately I could only find one. Well guess what I found in the box. Yep - there was the bobbin threads, the top threads and MY SECOND APPLIQUE FOOT!!!!
Missing applique foot!!!!!
I am pretty pumped about this applique. I will try to get the rest of the shapes glued down tonight and then start the stitching. Then I will get the next one organized and ready to work on the next applique day. Yes - there is a light at the end of the tunnel.
Today is Monday and I can't wait to see what I have stuffed in those boxes to work on.
On that note - I am off to spin class. I must be out of my mind because it is 5:37 AM as I write this and it is MINUS 13 outside and I'm going out? Yep - pretty much lost my mind!!!! I am serious about changing my habits and I ate one too many cookies yesterday - got to make up for that!
Have a good day!!!!!
Ciao!!!!!!!!!!!