I've got two new classes and there isn't a lot of time to sign up for them. They start TOMORROW. Yes - it's been crazy busy and no time to post the pictures.
These two classes take place at the
Hobby Horse Quilt Shop
.
The first one is absolutely adorable.
Yes - it is appliqué. Yes there is going to be opportunity to make changes and we're going to learn how to create fabulous designs using markers, crayons and paints (if you want!!!!). The images are little sewing mice. Where's Cinderella?
It promises to be loads of fun!!!! I can't wait to get started on it. Well get the class started on it!
The second one is a pieced quilt - not too big and it's called
Reminisce by Lori Smith of From my Heart to your Hands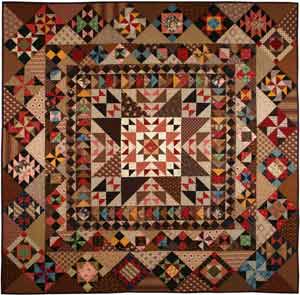 Reminisce by Lori Smith of From my Heart to your Hands
It is 60 inches square - lots of opportunities for learning to piece accurately. I'm not sure, but I have a feeling this class is FULL. Check with the Hobby Horse if you need more details. The classes will be held on the fourth Saturday in the morning.
I've got TWO links for QUILTSocial today. I believe I forgot to post one yesterday.
QUILTSocial - Thursday - my "modern" crazy patch project
QUILTSocial - Friday - Top 10 reasons why I love the Husqvarna Viking Jade | 35
I've got the next sewing machine and if I was a smart person - I'd be starting on those next posts this weekend. As I have mentioned numerous times - while I now have a great system in place for keeping up to date with things and not letting anything slip through the cracks - I'm still working on the daily task items to figure out how best to list them.
I've had one thing on my task list since the beginning of the year and that was to design a specific quilt. I won't go into all the details because I want to talk about the quilt in my presentation to the Brampton Quilt Guild next week. Suffice it to say, I had to edit some photos in a way that I didn't know how BEFORE I could design the quilt. So technically I should have said - edit the photos as ONE task and then design the quilt as a second one. You also get to check off more items that way!!!!
However I'm happy to report that with a little research last night, I was able to edit ALL the photos in the way that I need. Now I can actually design the quilt. Those tasks MUST be very specific and the more simple you keep them (by breaking them down) - they are not all that unsurmountable. Hey - I'm learning!!!!
And I think Lexi has written a
blog this morning
. I'd check it out. She can be pretty persistent.
On that note - I'm out of here.
Have an awesome day!!!!!
Ciao!!!!